Download Our Most Up to Date Menu!
Soups
---
"Soup is Cuisine's Kindest Course"
Our Soups are Made Fresh Daily
Ask for Today's Selections!
Soup to Go:
Served with crackers
extra crackers 25 cents
Salads
---
Available Dressings
Mandarin Vinaigrette, Classic Greek, Fat Free Raspberry Vinaigrette, Citrus, or Nicoise
Extra Dressings – 50 cents
Mallie Mustard and Salad Dressing to Go: Pint $10.95
1/2 Pint $6.95
Desserts
---
Beverages
---
Unsweetened Iced Tea – Sweet Iced Tea – Iced Peach Tea – Pink Lemonade – Coca Cola Classic – Diet Coke – Root Beer – "Real" Cherry Coke – Sprite – 100% Columbian Coffee – Regular or Decaf
Mallie's Desserts
House Favorites Available Every Day!
Mallie's Catering
Let Mallie's make your event more than special. Menu and Pricing upon request.
House Specialties
---
See Our Right Sidebar or Homepage for the Daily Specials
Please Note – There will be an extra charge of $1.00 For a Split Order
Sandwiches
---
All cafe sandwiches are served with chips and choice of potato salad, kidney bean salad, cucumber slaw or pasta salad. Substitute Fresh Fruit add 50 cents.
Any Sandwich on a Freshly Baked Croissant…add $2.00
Sandwiches are available on Whole Wheat, White, or Marble Rye. We use only Hellmann's Mayonnaise and our Homemade Mallie Mustard. Lettuce and Tomato available on request.
For Our Kids
---
(12 and Under, Dine in Only)
Kids' meals come with a special treat
Our Kitchen to Your Table For any Occasion
Mallie's Cakes
Chocolate Chocolate
Yellow w/ Chocolate Frosting
Chocolate Peanut Butter
Lemon Lemon
Red Velvet
$50.00
Butter Pecan
Hummingbird
Chocolate Coconut Mounds
Strawberry Forrest
Chocolate Toffee Crunch
Turtle Cake
Chocolate Butter Pecan
Butterfinger
Cookies – n – Creme
Rocky Road
$55.00
Blueberry Creme
Lemon Blueberry
Strawberry Stack
Pies
$28.50
Kentucky Derby
Buttermilk Coconut Pecan
Pecan Pie
Strawberry
Banana Cream
$25.00
Coconut Silk
Pumpkin
Brownie
Pies
Cream Cheese Brownies
Oatmeal Cake
1/2 pan – $25.00 …… Full Pan – $45.00
Daily Specials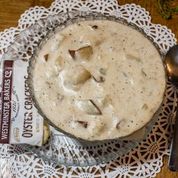 Soups
Specials
Desserts