Mallie Kyla Howard was born Mallie Kyla Fee in Lee County, Virginia, on July 27, 1900. Her father was a farmer and the owner of a small country general store at a crossroad outside of Rose Hill, Virginia.
She was the oldest and the only daughter with three younger brothers. She attended a one room school in the area which only went to the 7th grade but was allowed to continue at the school until she was 14 when she contracted scarlet fever and was very ill for many months.
She was so ill that she lost all of her hair but it returned after she regained her strength. She said that before she had the fever her hair was very straight but when it grew back after her illness.
At the age of 16 she eloped to Tennessee with her boy friend, Clyde Howard, because her father felt she was much too young to marry. Tennessee did not have a minimum age limit for marriage at that time as Virginia did. She and Clyde met a circuit riding preacher in a field across the state line in Tennessee and were married in a field while still sitting upon their horses.
Clyde's oldest brother, Bradley, was their witness. After the ceremony she and her new husband moved in with his family where they lived for many years until Clyde's mother died and his brothers bought out his share of the large family farm. Clyde, who had never liked farm life moved his family into the town of Rose Hill where he opened a barber shop and a pool hall.
Mallie gave birth to seven children but her first born son, Earl died at the age of three from a childhood disease. Her life was devoted to raising her remaining six children. Clyde's businesses suffered during the depression so he traveled north with a friend to Annapolis, Maryland to look for work. He found a job as a barber there and soon sent for his family.
They all piled into an old pickup truck with all their belongings for the trip north and settled into a row house in Eastport, Maryland. Mallie was a shy little lady and the "big city" scared her a bit. When I say "little" I mean she wasn't very big. She stood 4 feet 11 inches in her stocking feet. Of course no one ever saw her in her stocking feet because she always wore high heeled shoes so she would look taller.
At first she would send the children to the store to buy the groceries but eventually she ventured out to do her own shopping. After a few years her father and mother moved to Maryland. After her mother's death her father and brother Murphy moved into row house just a few doors away from her house. So, there were a few more mouths to feed but that never bothered Mallie.
She could make gravy out of anything and knew how to stretch a meal by adding a few more potatoes to the pot and doubling the recipe for her marvelous biscuits. After all those years of feeding anyone and everyone, Mallie who had learned much of her cooking skills from her mother-in-law, Mollie Howard, had turned into a marvelous cook.
In the mid 1950's, with all of her children married and her husband in a state hospital with complications from diabetes, Mallie found herself a bit short of money. Her children contributed what they could but she didn't want to be a burden so she decided to get a job. She was a fifty-five year old woman who had never worked outside the house so her choices of employment were either cleaning or cooking.
When a friend mentioned that she knew of a little restaurant near the government buildings in downtown Annapolis that needed a cook she gathered her courage and caught the local bus into town. She got the job and put that little restaurant on the map. She turned what had been mediocre place to grab a bite to eat into the most popular place for home cooking in town. The owner even offered to pick her up for work every morning so she could have home made biscuits and rolls made before they opened at 7am.
The local bus didn't start running until 7am. She continued to work there even after her husband returned home after he lost a leg to diabetes and could no longer work as a barber. Even though she cooked 5 1/5 days a week at the restaurant, she still managed to fix her big Sunday dinners for her children and grandchildren.
As far as I know, she never used a cookbook or a boxed mix to make anything and I never saw a set of measuring cups in her kitchen. She did most of her baking with a coffee cup for measuring. Although she did have a set of measuring spoons most of the time she just put in a pinch of this or a handful of that in her recipes. After the grandchildren came along most people stopped calling her Mallie.
To her friends and family she was Granny Howard, the best darned cook in town.
Mallie Kyla Fee (Granny) Howard died at the age of 76 of complications from aplastic anemia. I still miss her.
Daily Specials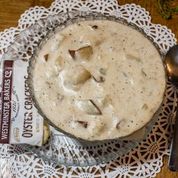 Soups
Specials
Desserts